SPECIAL FEATURES
Tia Carrere
Margaret Cho
Church of Rhythm
Hiroshima
James Hong
Bruce Lee
Jet Li
Keye Luke
Martial Law
Minoru Miki
Lea Salonga
George Takei
Tamilyn Tomita
Ming-Na Wen
Anna May Wong
Russell Wong
HOME

SECTIONS
Actors
Actresses
Astronauts
Athletics
Authors
Business People
Cartoonists
Community Leaders
Dancers
Directors
Fashion Designers
Film Festivals
Military
Musicians
Newscasters
Politicians
Television Shows











G E O R G E T A K E I
"MR. SULU"

Actor, Activist, Advocate & Spokesperson!
MOM, THERE'S AN ASIAN GUY ACTUALLY NOT PLAYING A NERD, A MARTIAL ARTS FIGHTER OR A GUY WHO CAN'T SPEAK ENGLISH!?!?!

Check out one of the 1st Asian Pacific American actors that made people realize, understand, accept and utilize the tremendous talents that the Asian Pacific American communities brings to the entertainment industry!
Born on April 20, 1939, George Takei, known popularly throughout the world as "Hikaru Sulu" from Star Trek, has led a most distinguished career on stage, on television, and on the big screen. He was one of the first Asian-American actors to play a prominent and regular role on television and undoubtedly influenced countless others to pursue their own dreams likewise. He played prominent roles in the theatre in the plays Fly Blackbird and The Wash (1990). On television, he has starred and guest-starred on everything running the gamut from Hawaii Five-O to General Hospital to Murder She Wrote. His motion picture credits include Ice Palace (1960), An American Dream (1966), The Bridge on the River Kwai (1957), Empire of the Sun (1987), and all the Star Trek movies from I-VI. Most recently, Takei costarred in Disney's animated feature film Mulan as the voice of the Ancestral Patriarch.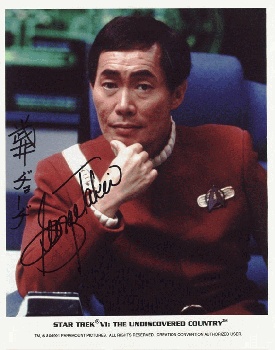 A mainstay of both mainstream American and Asian-American culture, George Takei has already achieved legendary status. Not limiting himself to the screen and television, however, Takei was one of the few prominent Asian-Americans brave enough to publically and politically rally for the long-overdue compensation of Issei and Nissei, who, during World War II, were stripped of property without due process and sent to concentration camps.
Born in the Boyle heights district of Los Angeles, he lived there peacefully with his family until World War Two, when he and his family were forcibly relocated to a detention camp in Arkansas. From there they were moved again to another US internment camp at Tule Lake in Northern California. Originally he was fascinated with architectural design and he began his college education at the University of California at Berkeley. Later he transferred to the Los Angeles Campus of the university. He majored in Theater Arts with a minor in Latin American Studies. Takei made his professional debut in a Playhouse 90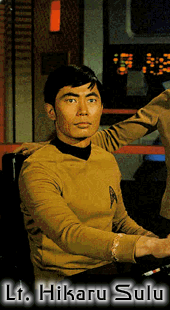 production during the time he was attending UCLA. Concurrent with his university studies, he furthered his training as an actor at the Desilu Workshop.
In 1963, he made another leap forward on the scale of experience. He left for Europe, and he attended at the Shakespeare Institute at Stratford-on-Avon. Upon returning from Europe to Hollywood, he found that he had to work hard to find acting work, but finally he began to achieve some success. During that time, he racked up credits on such TV shows as Perry Mason, Hawaiian Eye, The Islanders, Alcoa Premiere, Checkmate, Mr. Novak, The Wackiest Ship In The Army, I-Spy, The John Forsythe Show, Bob Hope Chrysler Theater, Bracken's World, Felony Squad, Ironside, It Takes A Thief, Mr. Roberts, My Three Sons, Voyage To The Bottom Of The Sea, The Twilight Zone and many more.
Takei was cast on Star Trek beginning with the second pilot as the botanist, but as the series went into production, he became the helmsman. During the first season of Star Trek, he managed to work in an appearance on Mission:Impossible. During the second year, he requested additional time off when he had the chance to appear in the feature film The Green Berets.
Takei's motion picture credits include A Majority Of One, Red Line 7000, Hell To Eternity, An American Dream, Walk Don't run, Never So Few, Josie's Castle, The Loudmouth, The Young Divorcees PT 109 and Which Way To The Front.
After Star Trek, he appeared on episodes of such TV series as Kung Fu, The Six Million Dollar Man, Baa Baa Black Sheep, Chico And The Man, Hawaii Five-O and Miami Vice. His feature film debut was in the movie Ice Palace.
His interests outside of acting include involving himself in political causes. He was a California representative at the 1972 Democratic National Convention, and in the fall of 1973 he ran successfully for Mayor Bradley's vacated council seat in Los Angeles. He has recently appeared in two motion pictures in major roles. One is Return From The River Kwai and the other is Prisoners Of The Sun. Read more about his recent activities by clicking HERE to read his recent interview.


FILMOGRAPHY
Mulan (1998)
The Best Bad Thing (1998)
Backlash: Oblivion 2 (1996)
The Emperor's New Clothes (1995)
Kissinger and Nixon (1995)
Oblivion (1994)
Prisoners of the Sun (1991)
Star Trek VI: The Undiscovered Country (1991)
Star Trek V: The Final Frontier (1989)
Star Trek IV: The Voyage Home (1986)
Star Trek III: The Search for Spock (1984)
Star Trek II: The Wrath of Khan (1982)
Star Trek: The Motion Picture (1979)
Star Trek - Ep. 66 (1968)
Star Trek - Ep. 14 (1967)
Star Trek - Ep. 19 (1967)
Star Trek - Ep. 29 (1967)
Mission: Impossible - V. 2 (1966)
Star Trek - The Mudd Pack (1966)
Red Line 7000 (1965)
Loving Memories

INTERVIEWS
SciFi Interview
Mosaic
Yolk
MIT
Seattle Times
UCLA Bruin
Radio Station






Support a grass root effort to have
George in the lead of the next Star Trek movie
by clicking HERE.
Visit his official website to get the latest 411 by clicking HERE.



Any questions regarding the content, contact Asian American Artistry
site design by Asian American Artistry
Copyright © 1996-2006 - Asian American Artistry - All Rights Reserved.
Special thanks to Vision Software